Support services can save your company internal management costs. Through these services, you get the right people to meet all the needs of your internal organisation.
Therefore, by contracting Weldon, you will be able to dedicate all your efforts to your business, with a more productive result.
At Weldon, we design a tailor-made plan according to your company's needs. We take care of creating tailor-made services, taking into account the objectives and the work to be carried out in order to provide the best experience when entrusting us with your company's services.
Our aim is to carry out an accurate study of your company's needs in order to find personalised solutions adapted to your business.
Types of support services
Reception
Contact centre and switchboard
Administrative services
Reception services
Our staff is trained and experienced in assisting in the tasks of the reception of any company. A fundamental task to facilitate the internal management of services or processes.
Reception services are essential to maintain site security, as well as welcoming and ensuring the best experience for customers and employees at meetings and events.
One of the main tasks is to answer the telephone, thus helping communication with clients and potential clients. In addition to receiving and attending to visitors in a professional manner, as well as preventing unauthorised access to the premises.
In short, this department reflects the image of your company. Get a professional image with our reception services.
Reception

Information points

File management

Customer service
FAQs
What are facility services?
These are the services of a company that are not directly related to the core business of a company. These can be support services, cleaning services, maintenance services…
What are the main jobs at reception?
Apart from one of the main tasks, which is answering the phone, there are other equally demanded tasks, such as: guiding visitors according to previously established schedules, customer service, assistant management, collecting invitations or post, among others.
Contact centre and switchboard
It is important to emphasise the need to have a communication channel that helps us to improve communication with our customers, both current and prospective.
For this reason, our personalised contact centre and switchboard services focus on the reception and management of customer service requests through any channel.
They are uninterrupted, multi-channel services, which we put at your disposal to achieve your company's objective for your loyalty initiatives.
We have a large team trained to provide you with the best service, as well as extensive experience in the sector. We adapt to the needs, communication channels and type of customer your company needs.
Contact centre

Digital channels

Customer services (outbound and inbound)

Back office

Incident management

Telephone sales
FAQs
What are the services of a contact centre?
Among the many services provided by a contact centre, there are making and receiving calls, answering chat messages, answering emails, managing social networks, processing telephone orders, SMS messaging…
Administrative services
It should be kept in mind that there are many activities that are strategic for your company, even if they do not form part of your core business. We take care of your administrative outsourcing needs.
Our administrative support services are provided by an experienced and qualified team, so that you can focus only on what is important for your company.
Calendar management

Preparing documentation

Travel organisation

Meeting and room management

Internal mail
Why choose Weldon?

Customer proximity
Our presence throughout the national and international territory allows us to be very close to our customers, to know their needs and to provide optimal solutions adapted to their needs.

Outsourced auxiliary services
By outsourcing auxiliary services, you increase the productivity of your teams and help maintain greater control over costs.

We promote the permanence of
our employees
Stability is key to quality service.

Cost savings
By relying on Weldon's ancillary services, you save on maintenance costs.
Interactive map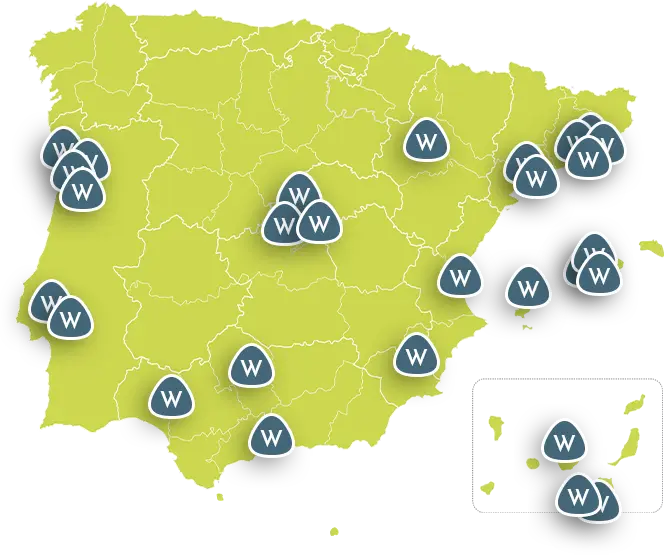 National and international presence
Discover our interactive map!
Central Delegations
Barcelona: Avinguda Diagonal, 523, Edificio Atalaya, Planta 21
Madrid: C/ Alfonso Gómez, 42C / C.P 28037
Lisboa: Rua Manuel de Jesus Coelho, nº4, 4º Andar, 1150-220
National Delegations
Alicante / Barcelona / Córdoba / Ibiza / Las Palmas / Madrid
Málaga / Murcia / Palma de Mallorca / Sevilla / Tarragona
Tenerife / Valencia / Zaragoza