We are a leading company in Spain in the integral management and cleaning of vehicle fleets, with a presence throughout Spain and the islands.
Vehicle and equipment cleaning
Preparation of the vehicle by vacuuming and internal disinfection, external cleaning of windows, vinyls and bodywork. The types of work we carry out are:
Tunnel washing

Facilities for serial cleaning.

Mobile Service Unit

On-site cleaning.

High pressure cleaning

Ideal for deep cleaning.

Dry

Specifically for quick cleaning.
We offer the highest quality guarantee to our clients:
Time optimisation

Our methodology optimises the duration of the procedure and guarantees the agreed quality standards.

Anti-corrosive material

We use detergents that protect against corrosion of parts exposed to water and paint wear.

Covid-19 protocol

We have protocols for the disinfection of susceptible areas, which include the use of approved products.
Integral management of vehicle fleets
We take care of the full management of vehicle fleets at national and island level.
Regarding the delivery and reception of vehicles, we assist in the check-in and check-out processes at your Service Centre:
1. Reception of the vehicle

Conclusion of the rental contract.

2. Damage control

Checking the condition of the car in terms of bodywork, condition of accessories, fuel tank and other parameters.

3. Reconditioning

Refuelling: Filling tanks, both in our own facilities as well as in those of our partners.
Maintenance: Transfer to workshops as required.
Cleaning: Transfer to washing areas or on-site cleaning.

4. Entrega del vehículo

Registro del estado de entrega del vehículo.
We take care of vehicle transfers and movements:
Internal

Transportation of vehicles between client's offices/centres.

Maintenance

We take care of taking and collecting the car from the ITV (Spanish test of roadworthiness).

To the end user

Delivery and collection of vehicles anywhere in Spain, including the islands.
FAQs
What is vehicle fleet management?
This is the procedure that manages and organises commercial vehicles. We check where and when each service is performed, and by whom. All vehicle interventions are recorded and information is available in real time.
How often should a car be cleaned?
There is no official specified time. However, professionals agree that the appropriate time interval for cleaning a car would be about 15 days. Taking into account a normal and adequate use, in an interior without much dust or humidity. However, other factors must be considered, such as the vehicle's paintwork or corrosive agents in the environment.
Why choose Weldon?

Tailor-made solutions
- We adapt our procedures to your needs.
- We understand your requirements in terms of operations, quality, invoicing and reporting.
- We train our staff in the special requirements that your service may have.
- We customise our app to control your work centres and the services to be carried out in each of them.
Specialists in personnel management
- Immediate response to peaks in work.
- Reduction of costs associated with reprocessing.
- Increase in staff productivity.
- Service consistency.
- Recruitment flexibility: we are constantly recruiting, hiring and training staff.
- Our own work protocols: methods designed for agile and efficient interventions.
Wide geographical coverage
With more than 30 offices in Spain, we are able to cover your requirements anywhere in the country, including the islands.
Interactive map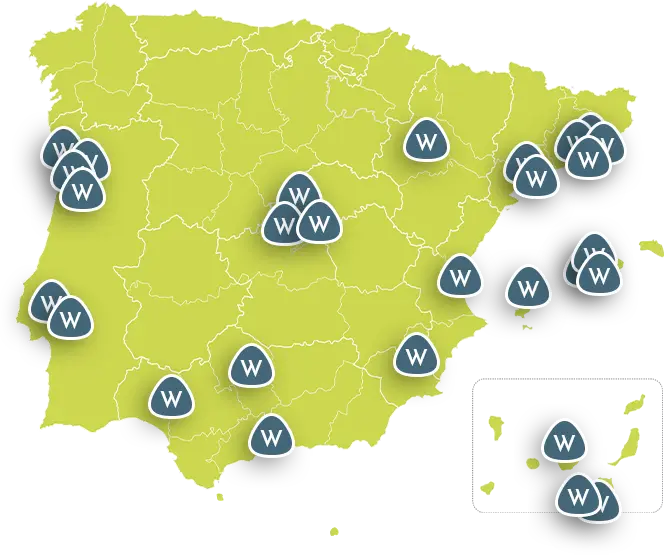 National and international presence
Discover our interactive map!
Central Delegations
Barcelona: Avinguda Diagonal, 523, Edificio Atalaya, Planta 21
Madrid: C/ Alfonso Gómez, 42C / C.P 28037
Lisboa: Rua Manuel de Jesus Coelho, nº4, 4º Andar, 1150-220
National Delegations
Alicante / Barcelona / Córdoba / Ibiza / Las Palmas / Madrid
Málaga / Murcia / Palma de Mallorca / Sevilla / Tarragona
Tenerife / Valencia / Zaragoza