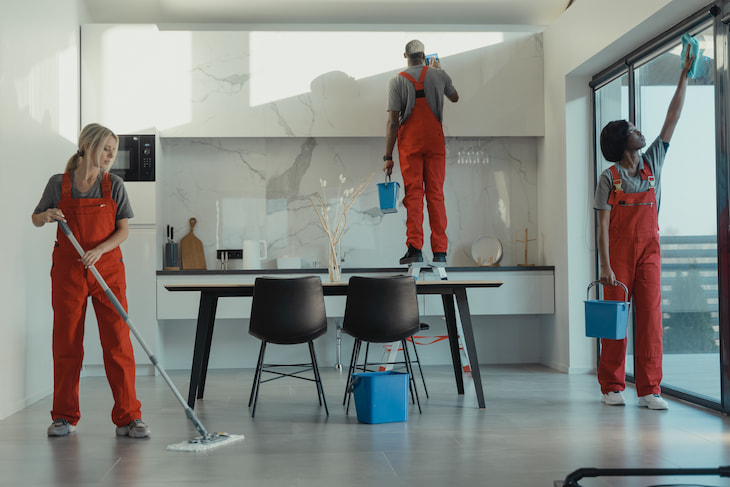 Facility services are a vital component to any organisation's efficient and effective operation. From cleaning and space maintenance to security management and access control, facility services cover a wide range of areas critical to an organisation's operational success.
But what exactly are facility services and how do they contribute to a company's development? Find out everything you need to know in this article by Weldon.
What are facility services?
In simple terms, facility services refer to a set of services designed to handle activities that are not directly related to a company's core activity. 
Outsourcing facility services is a common practice in many companies, as it allows them to focus on their core activity and leave the management of their facilities and secondary activities in the hands of experts.
At Weldon, we specialise in providing comprehensive facility management solutions tailored to the specific needs of each organisation, always seeking to improve efficiency and productivity.
Facility services within the cleaning sector
Within the cleaning sector, facility services are responsible for providing integral solutions for the maintenance and sanitisation of spaces. This includes daily cleaning of health centres, clinics and nursing homes, tourist flats, offices and shops, university residences and halls of residence, among others. Professional cleaning services, carried out by our professional team, guarantee the sanitisation, disinfection and tidiness of spaces, creating a healthy and pleasant environment for both employees and users.
Facility services within the support services sector
In the field of support services, facility services focus on providing comprehensive support to organisations in activities that do not form part of their core business. These services can include reception, contact centre and switchboard, as well as administrative services. By outsourcing these functions to a support services specialist such as Weldon, companies can concentrate on their primary activities while ensuring the efficient operation of secondary activities.
Facility services within the fleet management sector
Within the area of fleet management, facility services encompass a variety of specialised activities and services. In the case of vehicle and equipment cleaning, Weldon offers various types of interventions to ensure the optimum condition and presentation of vehicles, such as tunnel washing, the use of mobile units for in-situ cleaning, the use of high-pressure cleaning for deep cleaning and the option of dry cleaning for rapid action. 
In terms of integrated fleet management, Weldon provides a comprehensive service on both the mainland and islands. This involves assistance with check-in and check-out at the Service Centre, receiving the vehicle and carrying out a thorough check of the damage to the bodywork, accessories and tank. In addition, full refurbishment is offered, including refuelling at the company's own facilities or by arrangement, transfer to workshops for maintenance and cleaning in specialised areas or even on site.
The facility management service also takes care of vehicle transfers and movements. This includes internal transfers between the customer's offices or centres, as well as managing the necessary steps to take and collect vehicles for the Roadworthiness Test (ITV). We also provide delivery and collection of vehicles anywhere in Spain, including the islands.
Facility services in the access control sector
Facility services in the field of access control are focused on ensuring the security and control of access to facilities. This involves the implementation of access systems and technologies such as cards, codes or biometric recognition, as well as the supervision and management of these systems. Access control services provide organisations with peace of mind, as they ensure that only authorised persons can enter certain areas, thus protecting assets and confidential information.
Facility services in the school monitor sector
In the educational sector, facility services also play a fundamental role, especially in the role of school monitors. These professionals are responsible for supervising and ensuring the safety and wellbeing of students during their time at the school. They are also responsible for organising complementary activities, providing support in the school canteen and ensuring an environment suitable for the students' learning and development.
Do you want to know how Weldon can help you? Why wait any longer, get in touch with our team of facility services experts!