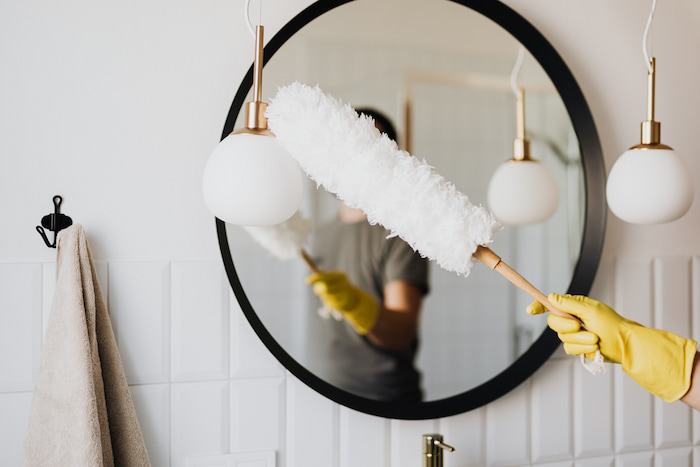 Cleanliness is a basic need that permeates every corner of our existence. From the comfort of our homes to the infrastructure of large institutions, keeping spaces clean is not just a matter of aesthetics. It is, above all, a matter of health and well-being. 
But what is the difference between cleaning and comprehensive cleaning? At Weldon, we have a clear answer to this, and it is our commitment to make it a reality every day.
Comprehensive cleaning: beyond the naked eye
Surface cleaning focuses on what we can see with the naked eye: shiny floors, spotless windows and dust-free surfaces. Comprehensive cleaning goes beyond what is visible to ensure that every corner, surface and object is in the best possible condition. Comprehensive cleaning tackles areas that are often overlooked in the daily routine, getting into corners and hard-to-reach areas, using specific products and ensuring thorough disinfection.
Adaptable to any scenario
Comprehensive cleaning is not a one-size-fits-all approach. It recognises that each space has its own characteristics. A university residence, for example, presents different challenges to a hospital. At Weldon, we create solutions that adapt perfectly to the needs of each sector, always guaranteeing impeccable results.
A dedicated team who are in constant training
Without doubt, our greatest asset is our team. Beyond the tools and products, it is the people behind every job that make the difference. Our highly dedicated and constantly trained staff are the ones who make Weldon's vision a reality on a daily basis, ensuring that the most advanced techniques are applied to every project.
Sustainability and respect for the environment
At Weldon, we are fully committed to sustainability and are constantly striving to reduce the use of chemicals, single-use plastics and paper consumption. This is why we use environmentally friendly materials in all our services. In fact, we have incorporated a microfibre system into the entire floor and surface cleaning process to minimise waste. We believe that a thorough cleaning should not only benefit the people and spaces directly involved, but also have a positive impact on the world around us.
Weldon, your trusted comprehensive cleaner
Comprehensive cleaning goes beyond the simple act of cleaning. It is a philosophy that seeks to restore the essence of each space, creating a healthy and welcoming environment. At Weldon, we strive every day to make this concept a reality in every project we undertake, always guaranteeing the satisfaction of our customers and the well-being of those who use the spaces we clean.