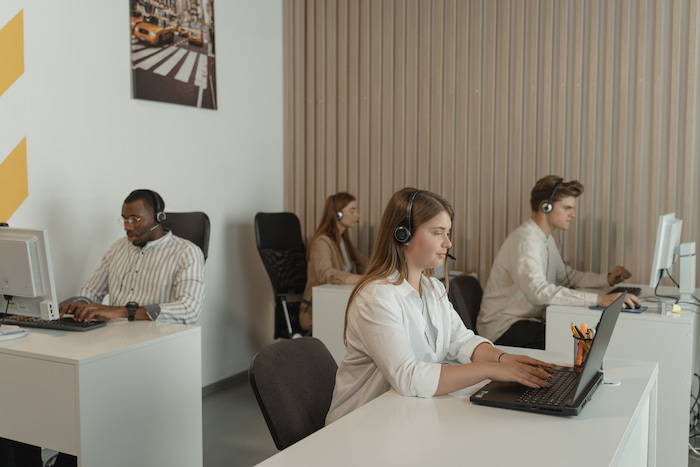 In times of digitalisation and rapid technological evolution, customer communication is more important than ever. Staying ahead in an increasingly competitive marketplace is therefore essential.
One of the main communication channels that companies use to maintain a close relationship with their customers is the call centre. But what is it and how can it benefit your business?
Today, at Weldon, we tell you everything you need to know about call centres.
What is a call centre?
A call centre is a centralised department or facility used by companies to handle large numbers of telephone calls. These can be either inbound or outbound. 
Inbound call centres handle customer requests, enquiries and complaints, while outbound call centres deal with tasks such as sales, promotions and surveys.
Technology in call centres
Call centres rely on state-of-the-art technology to enable efficient call handling and customer information management. These technological tools can include call management systems, call recording software, data analysis programs, etc.
These systems are known as IP telephony systems, IVR (Interactive Voice Response) systems and CRM (Customer Relationship Management) software.
How does a call centre work?
Agents

: responsible for answering calls. They are trained in the

company's products

or

services, customer service protocols,

and

the use of

call centre

software

and hardware.

Supervisors and managers

: they ensure

compliance with quality

and efficiency

standards

by supervising and managing the performance of agents.

Call routing

: it automatically redirects calls according to defined criteria, used in traditional telephone systems and IP telephony. This feature

improves communication, reducing waiting times

and quickly

connecting customers with the right person

.

Monitoring

: many call centres record calls for quality assurance and

training

purposes. They also perform

real-time monitoring

to provide immediate feedback.

Metrics and analysis

: they track

performance indicators

, such as average response time and average call duration. This helps to identify areas for improvement.
Improve your customer service with Weldon
At Weldon, we are experts in call centre management and offer services tailored to the needs of your company. By using our services, you will be able to dedicate more time and resources to the core activities of your business, while we take care of delivering exceptional customer service.
Contact us today to find out how you can optimise your customer service and improve your customers' experience.